Looking for a cool t-shirt designer?
We recommend contacting Guy Tasker, one of South Africa's Coolest T-shirt designers.
Here is some of guys cool T-shirt designs…
"This t-shirt design was for a client who owns and runs a kung-fu, karate studio. They gave me a picture with a fist with rope around it to reference and design something cool with it… I specifically designed this t-shirt design with 3 colours (the 4th colour is the background) RED / WHITE / SILVER (Black is the background) So it can be printed with a 3 colour vinyl t-shirt printing process…
I printed the tribal element with metalic silver vinyl…
Here is a photo of the finished t-shirt printed…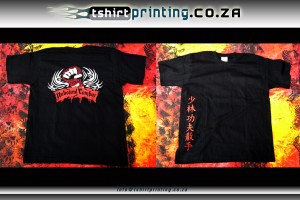 t-shirt printed by tshirtprinting.co.za, design by Guy Tasker
Below is a Brand design I did for a professional sprinter, this is one of the concept art / t-shirt application of his logo..