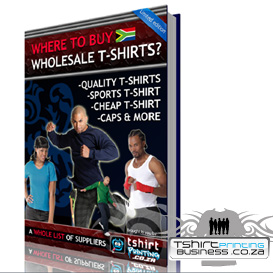 Do you want to know?
Where to Buy Wholesale T-shirts from the Best Suppliers in South Africa.
ALL The Secrets Revealed in this ebook:
 http://www.tshirtprintingbusiness.co.za/
Do you want to save tons of money?
Weather you print for your company or for yourself or want to start your own Brand,
you can find the BEST T-shirt Wholesalers in the country.
All the Biggest T-shirt printing companies use these suppliers.
Want to start a T-shirt Brand, this is your essential guide to T-shirt suppliers.
Want to start a t-shirt printing company?
This guide will help you find the best suppliers in SA.
Need Plain wholesale T-shirts, Hoodies, Jackets, Golf shirts, Vests, Ladies T-shirts, Caps and MORE !!
Most of these big time suppliers also print and brand for you, cut out the middle man, go direct to the source !
Written and Created by Guy Tasker.
You can BUY this book directly from this trusted website: (CLICK – BUY NOW)
takes 2-5minutes to process your order…download the ebook immediately once you make your purchase via paypal..
OR
Subscribe to this blog & I'll send you a FREE COPY of this sample ebook…
DON'T WASTE YOUR TIME TRYING TO FIGURE IT ALL OUT !!!
ALL YOU EVER NEED TO GET STARTED IS IN THIS EBOOK 100% CUSTOMER SATISFACTION 🙂
WE HIGHLY RECOMMEND THIS EBOOK TO EVERYONE !!!